3 Steps to Setting up Campaign Goals and Digital Advertising KPIs – New update 2024
We're a team of digital marketing experts who are passionate about helping businesses grow. We stay on top of the latest trends and strategies so you can focus on what you do best. We're here to help you succeed.
The Digital Marketer Journal is packed with articles written by professionals from every current digital marketing field. We add new posts daily. Industry trends, product changes, feature announcements, and more can all be found in this blog.
Along with fine-tuning campaign budgets, optimizing ads, analyzing digital advertising KPIs, and personalizing landing pages, there is one thing you must do before launching advertising campaigns: Determine what will make them effective.
It's easy for advertisers to get lost down the rabbit hole of metrics that make up a successful campaign, but the truth is, not all shiny metrics point to advertising achievements. The trick to finding the holy grail of advertising campaign success is to ask the right question from the start: "What should I analyze, and why?" In other words, everything starts with your campaign goal and ends with your KPIs.
This post will break down everything you need to know about how to measure advertising campaign effectiveness, from creating SMART goals to measuring your campaign.
1. Set your campaign goal
Lead generation. Brand recognition. Customer acquisition. These are some examples of campaign goals—outcomes you would like to achieve with your campaign.
Your campaign goal is any action you want the paid visitor to take, such as clicking a call-to-action button or making a purchase. Lack of a defined goal means you'll be working toward vanity metrics that don't necessarily help you achieve your overall business objectives.
When in doubt, use the SMART mnemonic to set crystal-clear intentions. SMART goals have five criteria:
Specific: Define your desired outcome in precise terms.
Measurable: Identify metrics that will help you understand whether you've reached your goals.
Achievable: Pick an attainable ambition. Don't aim so high that you set yourself up to fail from the start.
Relevant: Your campaign goal should align with your business objectives.
Time-bound: Set a specific date by which you should hit your target.
Consider this example: It's almost Valentine's Day, and your brand has manufactured a special product for all the romantics out there. Your goal is specific and time-bound: You aim to sell 250 units in the 10 days prior to the holiday via your ecommerce website. It's also relevant, as each item has a 50% profit margin and will thus contribute meaningfully to your company's bottom line. You sold 200 units of a similar product last year, and believe a 50-unit increase is achievable with a few strategic changes to your campaign (e.g., leveraging social proof).
To accomplish your goal, you'll need to drive 5,000 visitors to your landing page and convert them at a rate of 5%. Because this goal is measurable, you can evaluate success once your campaign concludes.
Once you've set a SMART goal, it becomes relatively straightforward to measure digital campaign efficacy. Next comes understanding what to track.
2. Choose your key performance indicators (KPIs)
The crucial part of setting a KPI is choosing what to measure. You don't want to go wrong at this stage. It's essential to ensure you assess value metrics that will positively impact your company's objectives.
According to Track Maven's report on digital marketing, even though 66.3% of marketers think it's easy to prove marketing impact, only 27.62% consider themselves very effective at demonstrating the value of marketing internally.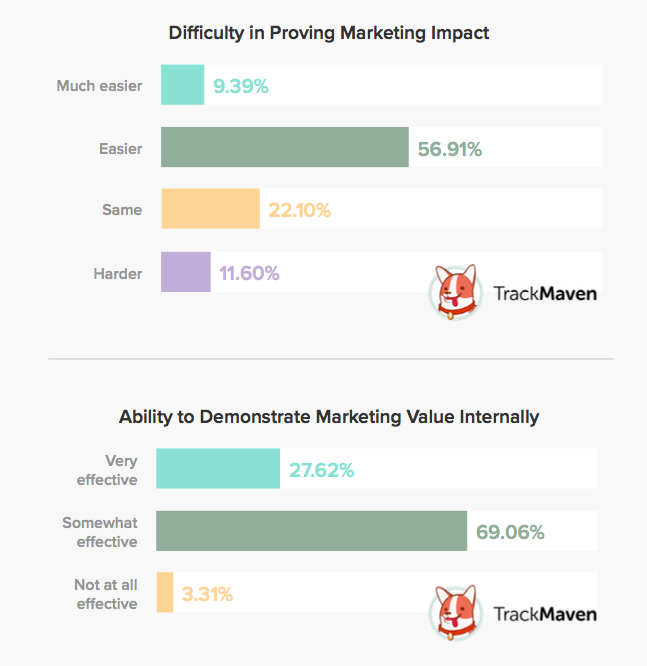 It's challenging to demonstrate the value of marketing because a lot of marketers confuse KPIs and metrics, using the terms interchangeably. Understanding the difference between the two is pivotal to measuring and reporting on your advertising campaigns.
Marketing leader Richard Hatheway explains:
The easiest way to understand the difference between metrics and KPIs is to first define them both as a quantifiable measurement of a strategic or tactical activity. As such, at the highest level, KPIs are strategic and metrics are tactical. Once you understand that, then they become quite easy to understand.
KPIs are a quantifiable or measurable value that reflects a business goal or objective (strategic) and how successful the business is in accomplishing that goal or objective. A metric is also a quantifiable or measurable value, but it reflects how successful the activities taking place are (tactical) to support the accomplishment of the KPI.
A standard KPI to measure your digital advertising campaigns' effectiveness is your return on ad spend. ROAS is a measure of three metrics: cost-per-click, conversion rate, and average order value. This KPI helps you understand how effectively you've communicated advertising messages to the target audience. The more relevant your ads are to your audience, the higher your ROAS will be.
While it's critical to know what you should be measuring, it is also essential to understand what you should ignore, such as vanity metrics. Vanity metrics are only useful when they measure the success of a marketing activity that serves a value KPI, instead of being the ultimate goal. The classic illustration of a vanity metric is tracking a ranking for a keyword that doesn't convert any traffic.
Increasing landing page traffic without optimizing for conversions with the long-term goal of increasing customer acquisition is another example. Distinguishing between vanity and value metrics will help you achieve your campaign goal.
Once you've defined your KPIs and chosen your priority metrics, all you need to do is consolidate everything on one dashboard or report.
3. Measure your campaign effectiveness
A marketing dashboard is the best place to compile and analyze your campaign data. Armed with your KPIs and priority metrics, you can set up a marketing dashboard that visualizes your campaign performance.
It's essential to review the dashboard at specific intervals. As a rule of thumb, it's best to check in on ongoing campaigns monthly, quarterly, and annually. For shorter-term campaigns, you might evaluate performance on a weekly basis.
Accurately measuring advertising effectiveness helps you prove the value of your marketing efforts. Benchmarking your past performance also offers you an opportunity to improve in the future. For these reasons, it's beneficial to measure the effectiveness of your digital advertising campaigns.
Start your landing page journey right with Instapage
Let Instapage help you build, launch, and optimize landing pages that generate higher advertising conversions—and get a crucial piece of your marketing campaign right.
Find out how the #1 landing page platform for marketers can help you skyrocket conversions while decreasing your cost-per-click. Schedule an Instapage demo today.
Relation articles with 3 Steps to Setting up Campaign Goals and Digital Advertising KPIs in the same categories
Summary
DIGITAL CHANGING your LIFE | Your #1 resource for digital marketing tips, trends, and strategy to help you build a successful online business. Subscribe to our weekly newsletter that delivers the most actionable, tactical, and timely marketing tips you actually need in 7 minutes or less. Get an edge over the competition, for free.
We're a team of passionate digital marketing experts who are always on the lookout for the latest tips, trends, and strategies. We love what we do and we're excited to share our knowledge with the world.
We believe that digital marketing is the future of marketing and we're committed to helping businesses succeed in this ever-changing landscape. We know that it can be daunting to keep up with the constantly changing landscape of digital marketing, but we're here to help.
Categories
Tags:
digital marketing tips for beginners
digital marketing tips for startups
digital marketing tips for small business
digital marketing tips 2022
digital marketing tips for social media
top 5 digital marketing tips
digital marketing agency tips
digital marketing strategy for a brand
digital marketing articles
digital marketing articles 2022
digital marketing news articles
digital marketing articles topics
digital marketing articles forbes
short article on digital marketing
article writing on digital marketing