Marketing tổng thể
Complete Guide to ASO: App Store Optimization – Bài viết kiến thức mới nhất 2024
Complete Guide to ASO: App Store Optimization – Cập nhật kiến thức mới nhất năm 2024
October 15, 2019   |  
Posted by
Liraz Postan
Apps are insanely popular. Since 2017, the number of apps developed and found in Google Play and the Apple App Store has grown massively. In fact, statistics suggest that there are at least 2.8 million apps out there!
With that many apps, there is bound to be serious competition no matter what vertical your app falls into. That competition might make it difficult for your app to truly shine. With such a saturation of apps, it can seem almost impossible for your app to stand out and entice people.
Well, worry no more (or just a bit less) – there is a way to help your app thrive! There is a way to help get your app noticed over all other apps! The answer is called ASO or app store optimization.
If you want to focus on boosting your app's discoverability, if you want to bump up your app store rankings and subsequently downloads, then you've come to the right place! This is the perfect guide to help you get started quickly and finish strong.
Here is everything you need to know about ASO!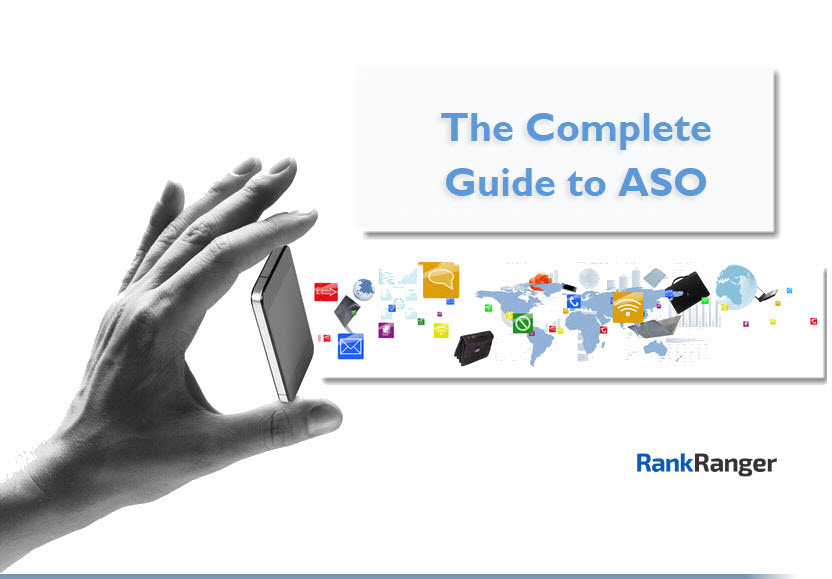 What is App Store Optimization (ASO)?
App Store Optimization (ASO) refers to the act of optimizing mobile apps specifically for the purpose of obtaining a higher ranking in app store search results (as well as getting the best top charts ranking). Since ASO shares some of the same elements and/or qualities as search engine optimization (SEO) for websites, it is easy for one to refer to app store optimization as the go-to SEO for Google Play and Apple App Store.
What many fail to realize is that app store optimization is considered to be the most cost-effective method of obtaining more app downloads. Even more so, ASO comes with a deluge of strategies with the utmost goal of increasing the chances of discovery of an app via an app store search. The upshot of ASO is that if properly done and maintained, the chances of seriously pushing the number of app downloads is quite high. The same is true when trying to push up an app's rankings in the charts. Simply put, ASO is a powerful tool, with limited costs involved. With high upside and low costs… what's not to like?
Of course, app store optimization success cannot be achieved overnight. In many ways, the process of increasing your app store rankings is going to require a trial and error period in order to determine a formula that is perfect for your app.
Fortunately, as we mentioned, ASO doesn't require a whole lot of dedicated budget. As long as you know exactly what to focus on you should be able to increase your app's download and rankings in a relatively short period of time.
So then, let's get started with the ASO process, shall we? 
Keyword Research for ASO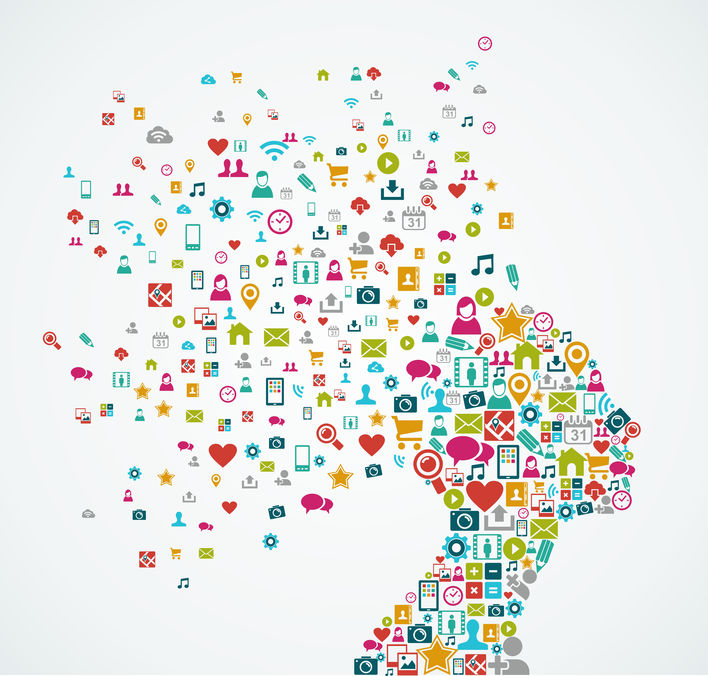 If you are planning to launch an app, you should already know the importance of ASO (App Store Optimization). It does not matter what type of app you are planning to develop and launch. What does matter is keyword research. Keyword research is the backbone of ASO.
No matter how you slice it, keywords give "identity" to your app. Keywords are both how users find your app and how your app is perceived by users. Meaning, if a certain keyword is what brings your app to the top of the results, users will identify your app one way. If another keyword is what brings your app up, then users may have an entirely different association to it!
The very first thing you need to remember is to be careful (and even a bit sophisticated) when selecting the most powerful keywords. This is especially true as these keywords define the true nature of your app. To this extent, you should strongly consider investigating and learning the top keywords your relevant competitors utilize to rank in app searches. There's no sense in trying to reinvent the wheel!
Thus you can start your keyword journey by researching the market. This would mean spying on your competitors, on their target keywords, in order to decide which keywords are the most advantageous for your strategy.
From there you can perform analysis and selection. After analyzing the competition you may have an extensive list of keywords. Perhaps too extensive and therefore infeasible and unmanageable. The idea then is to determine which keyword is worth moving forward with and which is not worth your time. You really have to spend time checking the performance of each and every keyword on your list, so you will know if they are worth the effort and investment. [Checkout Rank Ranger's App Store Rankings tool which makes this analysis a piece of cake.]
What's really important here is to understand how these keywords perform within any app store. As such, it's important to ask yourself these questions:
Will the keyword drive the relevant persons to your app? (The word of the day being

relevant

… it's not just a numbers game.)

What search intent do your keywords serve? (Think about the latent meaning and implications of the terms you go with!)

What is your main KPI from a specific keyword? (In other words, what do you want from your keywords? Traffic? Brand identity? Etc.)
It's one thing to know which keywords to focus on, it's another to actually rank for those keywords! Now, that you have managed to collect the best-performing keywords for your app, it is time to optimize your app's discovery!
How Do You Optimize Your App Page for Search?
It's time to add the keywords you decided on to the app field, description, title, and a whole lot of other places so that when a user searches for any of those keywords, you'll have a better chance of ranking higher. Think of old-school SEO tactics, back in the old days: when we used to count our main keywords inside the text.
According to TUNE, (formerly MobileDevHQ), if you include keywords in your title, you might end up with more than a 10% rankings increase. Crazy, no? Just make sure the title is appealing and engaging and always remember the title may be good for ASO, but it should essentially serve your future app user… so blurbing a set of keywords won't do the trick for ya!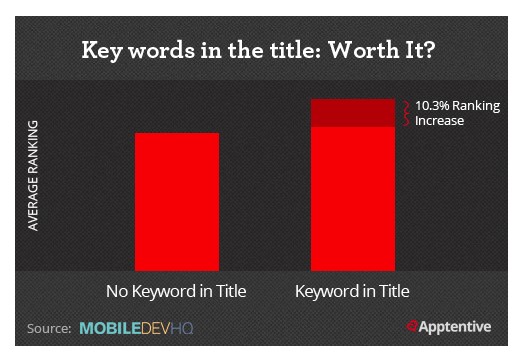 Your app's description is similar to your title and works according to the same keyword construct. You need to describe your app well enough to engage the user so that an actual download transpires. So yes, generously include keywords. At the same time, you should show how updated your app is by making sure you include the top features that best represent your app. In other words, you need to target the engines that decide what does and does not rank. Concurrently, you need to think about what happens when a user finds your app. What do you think happens when a user discovers your app but can't get a grasp of the features and elements you provide? Speaking of thinking about the user once they arrive at your app's page… you might want to include some nice screenshots with an appealing design! Below is a nice example of how Airbnb presents its app visually:
Again, ASO, like SEO, is not an overnight success. It is a process, and it is really going to take a huge amount of time in order to be efficient. The good thing is, you do not have to spend a ridiculous amount of money in order to achieve success. Just give it time and you should be able to see satisfactory results in the long run. What I'm trying to say is to be patient!


App Store Optimization Strategies
Now that you know what app store optimization is and how it works to help discover your app, it's time to learn some tips and strategies to really drive success. The idea here is to help to ensure that your app is able to meet the ranking criteria needed to rise to the top of a search results page. This is especially pertinent since the road to ASO success is not easy (you have to think that most of your competitors are also doing ASO). It really pays to know some well-known and effective strategies.
Well, without further adieu, let's take a look at some of them.
Understand Your Customers and Competitors
You might not know it, but not everyone out there has concrete knowledge about their customers and competition.
Ask yourself this: "How well do I actually know my customers and competition?"
A well-formed ASO strategy is one that completely hinges on understanding how customers use an app. Even more so, it comes with a very comprehensive view of the overall competitive landscape. Understand what your customer needs are: what are they looking for in your app? What are they not finding? My best advice is to track their behavior and see their reactions in real-time: you can use 3rd party tools to test that, or simply sit next to your users and watch how they use your app!
Pro Tip: Make sure you know what your competitors are doing. Think: How can you outsmart them? Where's the gap? What are they missing out on?
Choose the Right App Name
Oh, yes – having the right app name can mean a lot to your app's success. Obviously, if you come up with a catchy and unique name, your app is going to reach a lot of the milestones you're hoping for. At the same time, in order to obtain the best results, remember to always include relevant keywords within your title (as I mentioned earlier).
That said… optimizing your app is not as simple as creating a catchy easy to remember name that is properly optimized. There are market-specific considerations to take into account. 
If your app is meant for international dissemination there are unique considerations you need to examine. Does your app's name have various meanings in various languages? It's even possible that a benign word in one language is a slur in another! It could be your app name is associated with a well-established brand or celebrity in another market. That would add a bit of app store competition, wouldn't it?! It's all quite possible when bringing a globally targeted app into different countries. Make sure you're not using words that would be considered to be foul language in another market and that doesn't reflect a local well-known brand/celebrity.
Simply put, the best strategy is to select a catchy name which implies what your app is made for. But you have to think broadly about the long term and global implications (when applicable).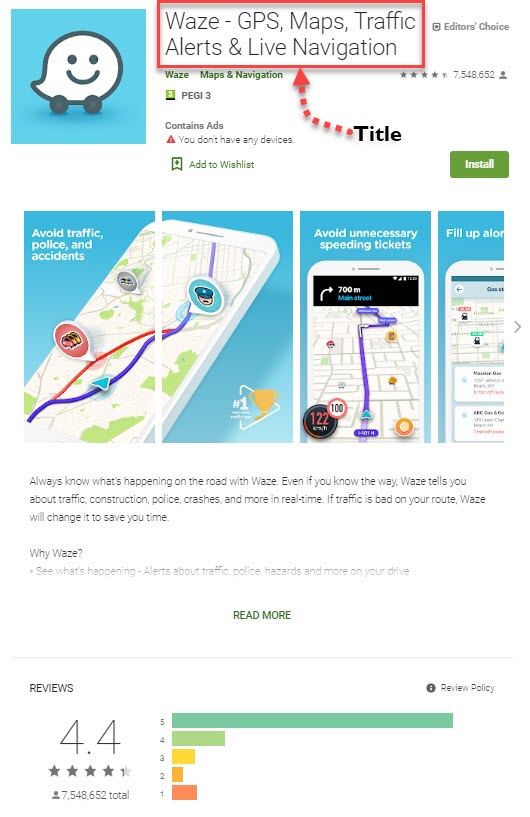 Maximize Your Keywords
Unlike SEO where most of our efforts are focused on Google, ASO must consider both the Google Play Store and the Apple App Store, the two most popular app stores in the world. There are tons of strategies that can be applied across the board, especially since we are talking about a couple of different app stores out there. However, no matter how different they can be, both stores require apps to have the best keywords to succeed. Your overall approach does not have to be different, but the way you maximize keywords in each of these stores must be relevant.
Take the App Store (Apple) for example, which is limited to 100 characters in the keyword field (make sure to use only commas, no spaces).
It's a simple equation, by understanding the idiosyncrasies of each distribution platform, you will know exactly how to maximize your keywords and overall strategy. The most important thing here is… use these elements to your advantage to help both your app and general business strategy.
ASO cannot be isolated from a brand's way of thinking about its overarching business strategy. Work with your marketing managers to understand how to tackle the strategic issues facing your business by using ASO as a marketing channel.
Google Play vs. The App Store: A Quick Comparison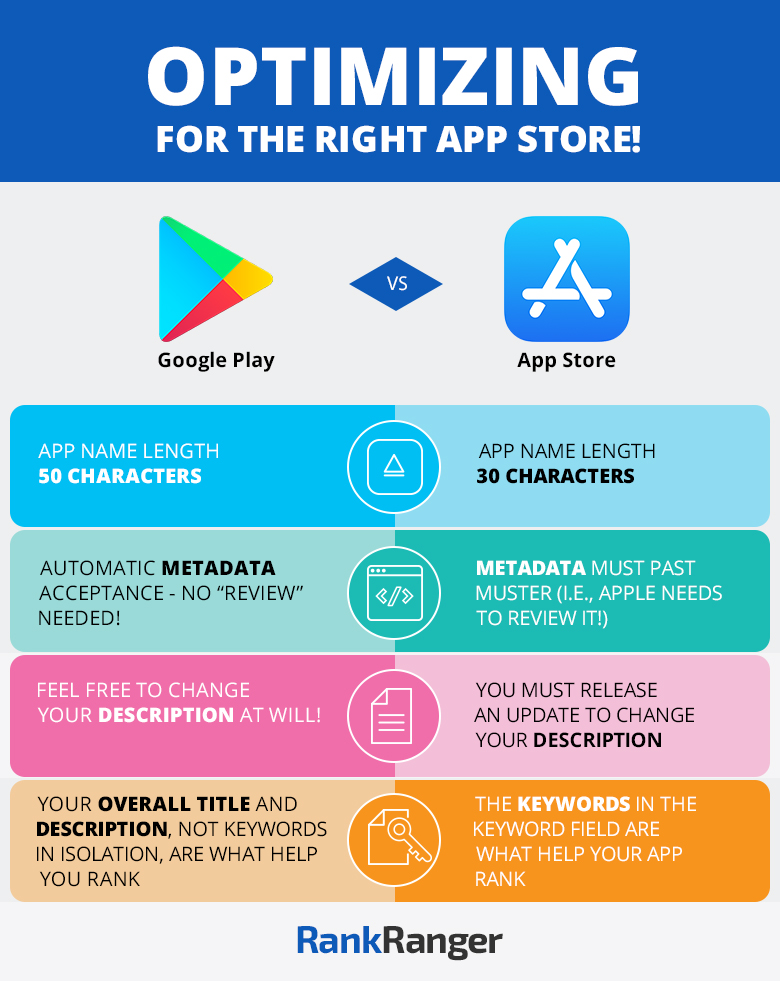 Bonus Tip! Version Updates…
So what can go wrong? You've done everything by the book and followed this guide, but you still need to remember one crucial thing:
Every version update, or every time someone in your team makes changes to your app, please make sure things didn't break along the way. These scenarios happen. In fact, they happen more often than you would think. The left hand not talking to the right hand can seriously impact your app's rankings. I would recommend having some internal education about ASO's importance for anyone who deals with your app page. No, not everyone has to be an ASO expert, but anyone working on your app should know ASO exists and that it needs to be accounted for. At a minimum, doing so will help keep the right people informed when changes to your app are made.
Be the ASO Pro!
ASO is super important. What's unique is that it's not a matter of spending the most money or anything of the sort. It's about dedication and diligence. It is a matter of research, aligning your business goals, and constant testing. ASO success depends on your understanding of the possibilities it affords and doing the work that will get you there! It's not complex, but it can be tedious. That said, it's worth it.
As with SEO, optimizing your app is not a one-shot deal. It's a constant process. It means always trying to improve, keeping on top of the competition, and taking notice of any changes to an app store's ranking process/preferences. There are an endless number of new apps created every day and new competition out there to consider. It's not only hard to rank well, but it's also not an easy task to stay on top. Plan ahead and always think about the best long term strategy for your app! No shortcuts!
Kết thúc
Ngoài các bài viết tin tức, bài báo hàng ngày của SEMTEK, nguồn nội dung cũng bao gồm các bài viết từ các cộng tác viên chuyên gia đầu ngành về chuỗi kiến thức Kinh doanh, chiến lược tiếp thị, kiến thức quản trị doanh nghiệp và kiến thức quản lý, phát triển tổ chức doanh nghiệp,.. được chia sẽ chủ yếu từ nhiều khía cạnh liên quan chuỗi kiến thức này.
Bạn có thể dành thời gian để xem thêm các chuyên mục nội dung chính với các bài viết tư vấn, chia sẻ mới nhất, các tin tức gần đây từ chuyên gia và đối tác của Chúng tôi. Cuối cùng, với các kiến thức chia sẻ của bài viết, hy vọng góp phần nào kiến thức hỗ trợ cho độc giả tốt hơn trong hoạt động nghề nghiệp cá nhân!
* Ý kiến được trình bày trong bài viết này là của tác giả khách mời và không nhất thiết phải là SEMTEK. Nhân viên tác giả, cộng tác viên biên tập sẽ được liệt kê bên cuối bài viết.
Trân trọng,
Các chuyên mục nội dung liên quan