How to Improve Your Google Ads Landing Page Experience – New update 2024
We're a team of digital marketing experts who are passionate about helping businesses grow. We stay on top of the latest trends and strategies so you can focus on what you do best. We're here to help you succeed.
The Digital Marketer Journal is packed with articles written by professionals from every current digital marketing field. We add new posts daily. Industry trends, product changes, feature announcements, and more can all be found in this blog.
Many advertisers think a user's brand journey starts with the ad click. However, to get that ad click, they need to find your ad—and brand—relevant. This is where Google's Quality Score comes in.
Google Ads uses Quality Score to estimate the usefulness of your ads, keywords, and landing pages to the user. Campaigns with higher Quality Scores have lower costs-per-click (CPC) and win better ad positions. Campaigns with lower Quality Scores, on the other hand, pay up to a 400% premium for less-desirable ad placements.
To enjoy all the benefits that come with a high Quality Score, you need to consider the following three factors:
expected click-through rate
ad relevance
relevant landing page experience
Today's post will showcase everything you can do to improve your Google Ads' landing page experience. Google's documentation recommends all the tips discussed in this post on the subject, so everything you read today comes straight from the source.
What is a landing page experience?
Google Ads uses landing page experience to measure how well-connected your landing page is to your ad. To calculate the experience, the platform analyzes your landing page through a combination of automated systems and human evaluation.
The page experience you offer affects your Ad Rank and, therefore, your CPC and ad position. Your ads may show less often (or not at all) if you direct your users to disjointed, poorly designed, slow landing pages.
Bottom line: It doesn't matter how much you're willing to spend on Google Ads. If your landing page experience doesn't align with your users' expectations, you're not going to see profitable results.
How to improve your Google Ads' landing page experience
Listed below are seven things you can do to ensure your landing page experience makes the cut.
Pay attention to page speed
A page that loads slowly has a higher bounce rate, a low average time-on-page, and a reduced conversion rate.
So, you need to ensure your landing page content loads instantly, because the faster it does, the more likely your prospect will be to view your offer and subsequently convert.
According to research, a 3-second page load time is the best way to go.. Every second counts because as page load speed grows from 1 to 3 seconds, the probability of a bounce increases 32%. From 1 to 5 seconds, it increases by 90%.
Use Google's Google's PageSpeed Insights to improve page speed by finding out any technical issues that might be impacting your page speed and user experience.
Hint: You can use Instapage's Thor Render Engine to create fast-loading landing pages that ensure a decrease in bounce rates, increased user engagement, and more advertising conversions.
Make your pages mobile-optimized
Google emphasizes a better mobile experience. The platform has taken steps to ensure advertisers take mobile optimization seriously by introducing initiatives, such as mobile-first indexing, responsive ads, and Accelerated Mobile Pages, among other initiatives.
Moreover, PubMatic's Global Digital Ad Trends report predicts that mobile advertising spending will reach a whopping $400 billion by 2023, representing 80% of global digital ad spend.
So, advertisers need to ensure when someone clicks their mobile ad, users land on a landing page that's not only mobile-responsive, but also mobile-optimized.
Mobile-responsive pages meet the fundamental criteria for a positive mobile user experience. They reformat and restructure automatically for any device, regardless of screen size.
In comparison, mobile optimization involves designing each page element with the user experience in mind.
Optimize your mobile page experience by:
Removing clutter
Adding sticky CTA buttons
Introducing click-to-call buttons
Featuring concise and readable copy
Ensure your page is relevant to the ad
Your landing page should be an extension of your ad. That means you need to ensure relevance and message-match between the ad and landing page.
If a user clicked an ad for a specific product, make sure you direct them to a dedicated landing page for that offer—not a generic product page or homepage that includes a myriad of other options, as this distracts them from getting what they originally wanted.
Maintaining the same message from your ad to your landing page helps create relevance and increases the likelihood for conversions. Ensure you message-match user intent, headlines, copy, and brand imagery.
Personalize your page for different audience segments
A personalized landing page should be a natural extension of its corresponding ad, and designed specifically for the audience segment that lands on it. Each page element should confirm the user has ended up in the right place, and that the offer they wanted is only a CTA click away.
Ad-to-page personalization presents users with a highly relevant and original experience throughout the entire campaign, beginning with the ad and continuing through to the landing page. Successfully achieving ad-to-page personalization helps boost relevance—and that's the primary factor in getting a good Quality Score.
When content is more relevant, it's more likely to speak to users' unique behavior and motivations, which means not only do you improve your landing page experience but you also increase your chances of getting advertising conversions. Creating ad-to-page personalization results in a positive brand impression, lower cost-per-click (CPC) and cost-per-acquisition (CPA), and increased ROAS.
Make your page easy to navigate
Landing page design is all about clearly communicating your offer to users in a way that's easy to understand. That means organizing and designing your page so users find it easy to navigate and don't have to hunt for crucial information.
Visual hierarchy determines which page elements engage the visitor first and the order in which they see them. By establishing a visual hierarchy, you ensure that communication between the user and your landing page is seamless.
Use the following techniques to help establish visual hierarchy and make the page easy to navigate:
Use the F page pattern: The F-pattern dictates that visitors read the page horizontally, first along the upper part of the content area, then move down the page and read across a second horizontal line. Arranging your landing page elements to fall into this visual order ensures that visitors see essential elements and convert.
Use the Z pattern: The Z-pattern layout is ideal for pages that aren't content-heavy. Its design mimics the human eye's route when it reads—left to right, zigzagging from top to bottom.
Add plenty of white space: White space, otherwise known as negative space, is the area on a page that helps highlight or draw attention to a specific page element. This design tool helps reduce clutter on your page and makes users focus on particular landing page elements, such as the CTA button.
ActiveCampaign's landing page features a Z-pattern, has no clutter, and includes abundant white space.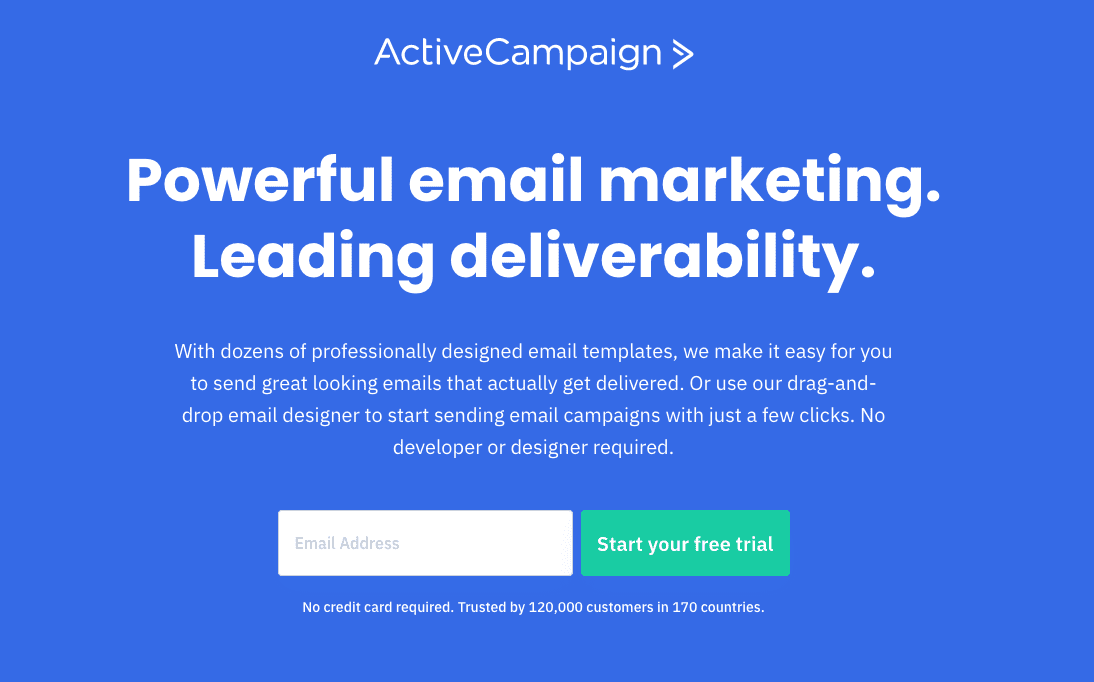 Increase credibility
Google expects your landing page experience to be transparent and credible. Your landing page should include elements that make users feel comfortable entering their contact details.
Here's how you do this:
Present the offer before you ask them to fill out the form. Ensure you have given users all the information about the offer before asking them to fill out a form.
Add your contact information. Giving people a phone number they can call establishes trust. The same is true for a live-chat option.
Have a link to your privacy policy. Always feature a link to your privacy policy under your lead capture form to explain how you're going to handle user data.
Provide social proof. Testimonials and customer badges make your offer more authentic and add human appeal to the page.
Hootsuite's landing page features their customer count and badges from notable customers:

Add a clear, contrasting CTA button
The user journey that starts with the ad click ends with the landing page CTA button click. So, it's essential to ensure your CTA is prominent and personalized to the offer.
For example, TransUnion's CTA button contrasts with the page background and features copy relevant to the offer: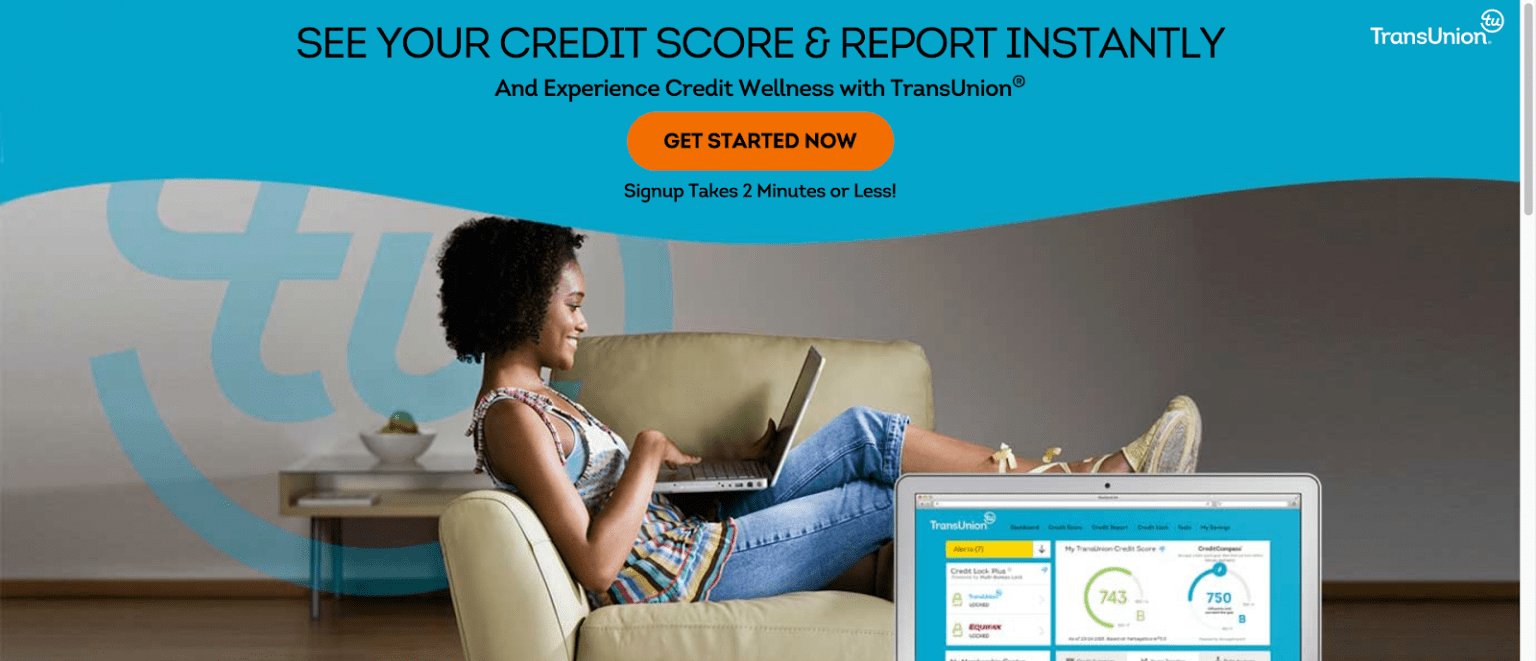 Start improving your landing page experience using these seven tips and work toward getting a high Google Ads Quality Score.
If you're confused about how to create personalized landing pages for all your ads, Instapage can help. The platform empowers you to start creating personalized and optimized landing pages to generate higher advertising conversions. Find out how to skyrocket conversions while decreasing your cost-per-click—with scalable advertising personalization. Schedule an Instapage demo today.
Relation articles with How to Improve Your Google Ads Landing Page Experience in the same categories
Summary
DIGITAL CHANGING your LIFE | Your #1 resource for digital marketing tips, trends, and strategy to help you build a successful online business. Subscribe to our weekly newsletter that delivers the most actionable, tactical, and timely marketing tips you actually need in 7 minutes or less. Get an edge over the competition, for free.
We're a team of passionate digital marketing experts who are always on the lookout for the latest tips, trends, and strategies. We love what we do and we're excited to share our knowledge with the world.
We believe that digital marketing is the future of marketing and we're committed to helping businesses succeed in this ever-changing landscape. We know that it can be daunting to keep up with the constantly changing landscape of digital marketing, but we're here to help.
Categories
Tags:
digital marketing tips for beginners
digital marketing tips for startups
digital marketing tips for small business
digital marketing tips 2022
digital marketing tips for social media
top 5 digital marketing tips
digital marketing agency tips
digital marketing strategy for a brand
digital marketing articles
digital marketing articles 2022
digital marketing news articles
digital marketing articles topics
digital marketing articles forbes
short article on digital marketing
article writing on digital marketing